With all the work for Nar Eurbrikka, working on decals is not my top priority right now; still, I try to get the requests done at a somewhat satisfying pace. So today, I finished a face decal that was requested quite some time ago depicting beloved Return of the Jedi-sidekick Nien Nunb!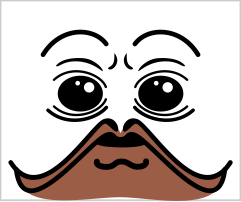 This decal should work well enough on a flesh head, I think, even though I didn't get around to testing it live myself yet. If I do, I may post some photos depicting this iconic Sullustan.
When I get a request, I usually check if there exists an official design, first. In this case, Nien Nunb's puppet was so unique and iconic that I didn't even bother to look it up until I was finished with my own version. I just used still images from the movie as a reference and made this entire design from scratch.
Checking Brickipedia, I then was surprised to find out that there was never an official Nien Nunb minifig released physically. There exists a face decal design, but it only appears in videogames so far. Also, I find it worth mentioning that this is one of the rare instances when I actually do like my custom design more than the official one. But since the latter has been around for a decade, it is, naturally, rather dated and nowadays, Lego would probably release a more sophisticated revision of it if they were to produce an official minifig. But then again, with his unique head, big ears and custom cap, Nien Nunb's head virtually screams for a custom mold... let's cross our fingers that Lego will create one someday. Until then, feel free to use this face decal and enjoy your own custom Nien Nunb minifig!